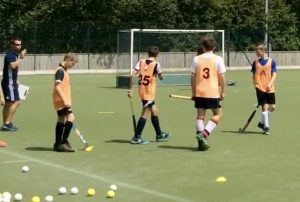 Andy is an experienced, qualified and insured Hockey Coach and is now able to offer 1-2-1 coaching and small Group Coaching with Social Distancing in place, in line with Government and England Hockey Guidelines.
Andy Rogers Sports Coaching 1-5 Group Coaching – June 2020
Following Latest England Hockey Guidance on Covid-19 and gradual return to hockey you can have up to 6 people on the allocated pitch area at once.
Please click links below for details of England Hockey guidance:
England Hockey: Latest Guidance to getting back on the hockey pitch: 02.06.2020
England Hockey: Getting back on to the pitch Document

When is this happening?

FULLY BOOKED for first 4 week block – We are trying to organise additional sessions for those that missed out and will let you know when we can get more sessions booked in. Let us know if you are still keen to book.

We will be starting sessions in June at Hereford Leisure Centre for groups of 5 with 4 sessions per week.
These will commence on Tuesday 16th June and run for 4 weeks from Tuesday/Thursday 16/18 June until Tuesday/Thursday 7/9 July.
Session 1: Tuesday 4.25pm – 5.25pm
Session 2: Tuesday 5.35pm – 6.35pm
Session 3: Thursday 4.25pm – 5.25pm
Session 4: Thursday 5.35pm – 6.35pm
Price for a 4 week block = £40 (e.g. Session 1 each week for 4 weeks) or £12 per session for individual sessions. (Sibling discount available)
NB: Warm up on the grass outside the pitch on your own before the start of your session so ready to go for an hours pitch time.
Who is this for?

Anyone can book on (ideally 11+ age group) and we will try and match the experience of players with the group. Outfield players and Goalkeepers are very welcome.
How do I book?

Get in contact with Andy via e-mail

[email protected]

with your details, which session would suit you, who you might want to be grouped with and we can get you booked on.
Will this continue beyond the initial 4 weeks?

Our aim is to continue with this programme throughout the summer with different sessions available through July/August tailored to what you want and need and in line with up-to-date guidelines.
What if I can't attend these sessions or I already have a group I want to work with?

If you have a group of 4-5 players and would like to enquire about other days/times then please do so as this may also be possible.
Will we be stood in our own area or will it be interactive with other players?

Socially Distanced Hockey Training doesn't mean we all have to stand in our own set of cones and stay there, we will be able to do a lot of active gameplay while maintaining minimum 2m distance.

What Rules/Practices are in place to protect me from Covid-19 if I book on?

Once you have booked on you will receive documentation that you will need to confirm you have read in relation to: equipment, arrival/departure time and expected behaviour on the pitch, as well as information on what I will be doing.